Project Highlights
Location: Baltimore, Maryland
Architect: Design Collective, Inc.
Delivery Method: Construction Management at Risk
Owner: Maryland Stadium Authority
Contract Amount: $38.8 M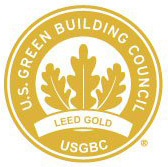 Project Summary
The Pimlico Elementary/Middle School project included 78,000 SF of renovations and a 41,015 SF addition. The original 1910 building was reconstructed to support the elementary component of the project while the 1924 building contains the middle school. The project required the preservation of the building's historic elements while unifying them with the modern additions. The original 1924 gymnasium was re-purposed into a media center with open ceilings and high windows. The existing activities core was converted to a dining room with natural lighting and an expanded kitchen. New community space and a gymnasium were also added.